The London Gaelic class
City Lit is a hundred years old this year. But the London Gaelic class is older still. Mark Rae explains…
The London Gaelic Class
Introduction
The London Gaelic class was founded in the 1880s and, except during the First World War, it has kept going continuously ever since.
The class was started by the London Gaelic Choir because there were singers in it who were not fluent, and who did not therefore understand what they were singing.
Before 1919 the classes took place in Crown Court Church of Scotland in Covent Garden.
City Lit, a centre for adult learning, opened in 1919 and the Gaelic class has taken place there ever since.
The classes kept going through the Second World War, sometimes in the underground station when there was an air-raid on!
Morag Traynor has been the teacher since 1998.
Extracts from historical books.
Here are some extracts from historical books from 1955 and 1970.
Structure
Five classes are available:
Discover Gaelic
Level One
Level Two
The reading class
Gaelic matters
Discover Gaelic
Discover Gaelic is suitable for people who have an interest in Scotland and/or Gaelic, but who have no Gaelic yet. From time to time, people register who are looking for "something different" to do, like learn another language. It is a one-day course and takes place in the summer, once a year. Simple but useful phrases are learnt; the numbers from one to ten; the vocative case; and so on. If the students enjoy the course, they are encouraged to take the Level One class.
Level One
Level One is suitable for complete beginners. In the course, students gain familiarity with basic grammar, have a chance to use their speaking skills, and to learn new vocabulary. The class follows chapters 1-11 of "Teach Yourself Gaelic" by Boyd Robertson and Ian Taylor. At the start of each class, the students talk to each other in Gaelic if they are able to. During the course, songs are sung and simple poetry and short stories are read and translated. The Level One class takes place at 6pm on Wednesdays. When the course is complete, students should be able to hold a simple conversation and are ready for Level Two.
Level Two
Level Two is suitable for learners who have done Level One or who have a little Gaelic already. At the start of each class, the students chat to each other for about five minutes on a topic of the teacher's choosing and then tell the teacher what was said. During the course, poetry and more difficult short stories are read and translated. The class takes place at half past seven on Wednesday evenings.
The reading class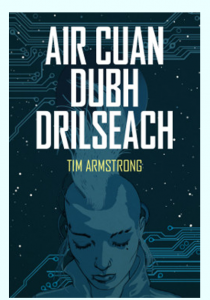 The reading class is suitable for speakers who are fluent or able to read in Gaelic to a high standard. The class takes place on occasional Sundays, starting at 11am and running for four hours. A different book is studied each time. The last book which was studied was "Air Cuan Dubh Drilseach" (On A Dark Shining Sea) by Tim Armstrong. A Skype conversation took place between the class and Tim himself. The students put questions to Tim about the book and about his new book, to be published soon.
This is a picture of the Skype session between Tim Armstrong and the reading class which took place in 2014. The session was very interesting and fun and Tim was very cordial and informative. He spoke with the class for nearly an hour.
Gaelic matters
This is a one-day course which takes place in the summer, once a year.
Every year, the teacher chooses a subject, for example:
Lullabies
Clans
Waulking songs
Poetry
Political songs
This year the subject was the Gaelic alphabet: spelling rules and the traditional 'tree names' of letters.
Morag Traynor
Morag currently teaches the London Gaelic class. She was born in Glasgow but her mother, a fluent Gaelic-speaker, was from South Uist. She first went to Sabhal Mòr Ostaig in the 1980s. She started teaching the London Gaelic Class in 1998. Morag is an evangelist for Gaelic and a fantastic teacher. She has deep knowledge of Gaelic traditional music, especially port-a-beul (mouth music) and waulking songs.
Links with Sabhal Mòr Ostaig
There are strong links between the London Gaelic class and Sabhal Mòr Ostaig. Every year at least one or two students from the London Gaelic Class take a short course at SMO.
Here am I with Morag and other students from the London Gaelic class in the canteen at Sabhal Mòr. On our t-shirts is written: "Gaels of the world, Lenite!"
Conclusion
There is a strong Gaelic community in London and the London Gaelic class is at the heart of it. Every year the number of students grows. The future is healthy for Gaelic in London!
Mark Rae