Growing up in Scotland, Gaelic hardly entered my consciousness at all. I can still remember  my first exposure to the language. I must have been about ten years old, and having a day off school sick. Sick days when I was young were spent in the spare bedroom at my grandparents' house in the East End of Glasgow. The smell of frying bacon would waft up to my sick room; an indulgence which the leisure of time permitted on such days. And another luxury: the little portable television, all to myself, all morning. I think it may even have been black and white, and with only three channels. But then an announcement: for our Gaelic  viewers, next up was to be an episode of 'Dotaman'. Not what I wanted to hear at the time, certainly, but I was something of a clever-dick, so I thought: how hard can it be? I will just concentrate. But no. Not a word of it could I make out.
I would invoke the Gaelic from time to time in conversations, whenever the question arose as to whether Scotland was really a country or not. It is a country, I would insist. We even have our own language—the Gaelic. Can you speak it, would come back the inevitable rejoinder. Well, no; but that's not the point. We've got it.
I also remember the first time I ever heard the pronunciation "Gàidhlig". Not Gaelic, pronounced gay-lick; but Gàidhlig, pronounced (to continue to tread on thin ice) like phallic, but holding the –a- for a minim rather than a crotchet. I was up at Edinburgh University on some junket when I heard it said that way. Hold on, I berated my interlocutor – doesn't Gallic mean French? No, he quipped back, quite the thing, that's garlic you're thinking of.
None of this is a terribly propitious beginning to anything, but even less propitiously, my start in Gaelic probably owes itself to having moved to England. I went to university in England, and having studied law in England I find myself still here. Little did I understand at the time the implications of the decisions I made at seventeen years old, although I expect I'm not alone in that. The thing is though, that living in England means that I am the Scottish guy. That is sort of my thing, or one of my things, in a way it would obviously not be if I was still in Scotland, where everyone else is the Scottish guy as well. Nevertheless, I found myself back in Edinburgh on another junket, this time to the Edinburgh Festival. We were at the Book Festival and there was the section on Scottish books, and there within it was a big section on Gaelic books. But wait a minute—am I not the Scottish guy? And here I am in the Scottish section, and unable to fathom a whole sub-section thereof.
This episode of cognitive dissonance lead me to purchase a couple of starter volumes on the Gaelic. 'Scottish Gaelic: An Introduction to the Basics', was one, a canny pitch at the absolute beginners' market, where after all everyone must start; and Teach Yourself Gaelic.
And that was my start in the Gaelic. I am still going, several years down the line. I would describe myself as an intermediate learner now. Where has my Gaelic journey taken me?
It has taken me several times to the place where all Gaelic learners end up, which is Sabhal Mòr Ostaig on Skye. This is Scotland's Gaelic college, which in addition to teaching degree-level courses in various subjects from history to film through the medium of Gaelic (i.e. the courses are all taught in the Gaelic language), also runs a large programme of short courses (generally a week long) in Gaelic language and related subjects such as Gaelic song. The language courses go from absolute beginner to near-perfect fluency.
Sabhal Mòr is one of those places in the reality of which one has difficulty believing, even when one is there. When it was founded by Sir Iain Noble in the 1970s, it was the first new university-level institution to teach in Gaelic since the foundation of the abbey of St Columba in Iona in the 6th century. One can order a pint or a plate of beans and black pudding at Sabhal Mòr in Gaelic—and the staff will hand it over with a cheerful 'Se do bheatha (you're welcome). For a Lowlander like myself this can seem like a minor miracle. Its location, perched on a headland overlooking the Sound of Sleat, with the mountains of Knoydart looming in the distance, is quite astonishingly beautiful.
Sabhal Mòr is also very international. I have had people in my Gaelic classes at Sabhal Mòr from Germany, Holland, Canada, Ireland, the United States and England, as well as Scotland of course. The number of Germans is particularly impressive. The Gaelic culture, as least in popular perceptions of it, is about as far removed from German culture as one can well imagine. Perhaps that is the appeal of it. Although when you ask them, the Germans usually explain that it is Runrig. The last class I took was actually taught by a German (Michael Klavenhaus, who has written the equivalent of Teach Yourself Gaelic, but in German, for the Gaelic class he teaches in Bonn—a sentence in the reality of which one likewise has difficulty believing).
But why study Gaelic, you might ask. What is the point of it? And I can see the point of the question. If anyone had sought to impose compulsory Gaelic on me at school, my teenage self would have argued against it with tenacity. But why learn any language? Not to make yourself understood to the locals when passing through—at least, not for an English speaker in the 21st century. Perhaps if you are going to live full-time in the relevant area, although how many of us does that apply to? And the same rationale does also apply to Gaelic, although only if you are likely to find yourself transplanted to somewhere like Benbecula. The real reason for learning any language is for the insight it can give you into the culture. And here is the oddity about Gaelic: the culture into which it gives you an insight is our own culture; it is Scottish culture.
Gaelic and English arrived in Scotland at about the same time, around the 6th Century, at around the time of St Columba in the case of Gaelic, or in the case of English with the Anglo-Saxons who began to settle after the legions had departed. For much of Scottish history – for around a thousand years after those starting points – Gaelic and English had roughly even numbers of speakers in Scotland. Of course, things have changed greatly in more recent times, but nevertheless, the history of Scotland is, to a significant degree, a Gaelic one. And the same is true of Scottish culture. One part of Scottish culture is David Hume and Adam Smith and James Clerk-Maxwell and John Logie Baird and Alexander Fleming and David Livingstone, and what amazing achievements we can boast on that side of things for a small country. But what would Scotland be without the pipes (piobaireachd) and the clans, whisky (uisge-beatha), Strathspeys and jigs, Culloden Field  and Buachaille Etive Mòr? What would Scotland be, in short, without the Gaelic?
And the position is in a sense even stranger, because whilst in historical and material terms the rational, Lowland Scottish has come to dominate, in cultural terms a case can be made that it is the romantic, doomed Gael who has ultimately won out. It is the Gaelic side of Scotland which supplies the dominant symbols of our identity, whether that be how others perceive us or how, for example when gathering abroad, we perceive ourselves.
Linguistically, however, there can be no denying the complete dominance of English in our national life. But Gaelic is undergoing a quiet resurgence of its own. It is developing in ways which might have seemed improbable a generation ago. Gaelic-medium schools are opening in places like Glasgow and Edinburgh, far removed from the language's redoubts in the Isles. Technology is opening new routes to learning, whether that be through powerful language-learning apps like Memrise or through the distance-learning courses run by Sabhal Mòr, where one can participate in weekly classes from anywhere in the world, by telephone. Roddy Maclean's weekly "Letter to Learners", of which there are now several hundred, are all available in text with accompanying mp3 sound file, on the internet, for free. On the multidict site one can seek definitions from multiple different Gaelic dictionaries through a simple search mechanism, including Edward Dwelly's magisterial dictionary, also now available on the internet, for free. There is even a Gaelic day on Twitter.
And the literature is not all Psalms and bardic poetry either. 2013 saw the publication of Air Cuan Dubh Drilseach, the first ever Gaelic science-fiction novel, written by Tim Armstrong, from Seattle. There is also a useful accompanying Memrise vocabulary course, if you do not yet know the Gaelic for 'escape velocity'. Gaelic music is wonderfully rich. There are very many fantastic Gaelic songs, such as A Pheigi a' Ghraidh or An Eala Bhan, many of which are almost completely unknown outside the Gaelic-speaking world. Current Gaelic singing superstar Julie Fowlis is however making great strides to introduce some of these songs to a wider audience (not only did she sing on the soundtrack of the film 'Brave', she was recently to be heard singing a Puirt-a-beul song on Woman's Hour).
Gaelic is also fantastic fun. No-one has to learn Gaelic for any reason other than that they are interested in it. Every short course at Sabhal Mòr culminates in a Thursday night cèilidh when each class sings a song or recites some poetry, and many individual learners take to the floor to perform a step-dance or give their best rendition of a Calum Kennedy classic (that would be me). There is much dancing and celebrating and classes begin a little later on the Friday morning, to allow a touch more recuperation time. I have met some very interesting people through Gaelic, from imbibers of low repute to members of the Scottish judiciary and of the House of Lords.
And what has been my part in all of this? As a humble intermediate learner, you might think—none. But Gaelic is not Chinese. For English speakers, the idea that anyone could ever 'do anything' for a language seems very foreign indeed. For Gaelic, though, every learner can make a contribution to the survival and health of the language by discovering the intricacies of this ancient tongue and sharing their enthusiasm in new ways with new people. I have Tweeted a bit in Gaelic and I located a suitable Gaelic poem for the foreword of Toni's book (although the credit there is really due to Morag, my teacher at the London Gaelic class). My ambition is to record the first album of Gaelic songs for tenor and five-string banjo. We will see; chì sinn na chì sinn!
If any of the above appeals to you in any way, you know what to do.
Beannachd leibh uile!
Colin West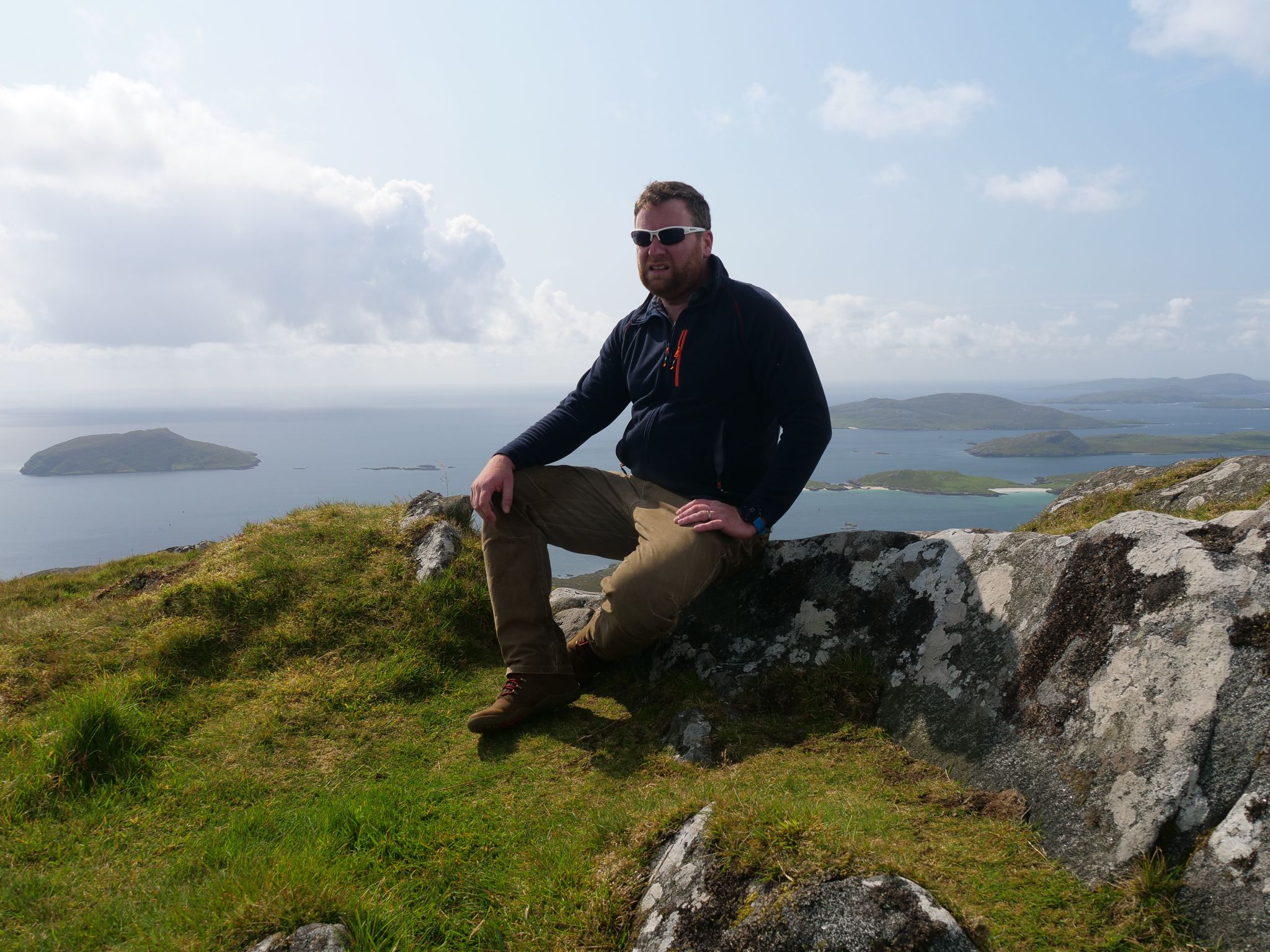 (This blog post was originally written to mark the publication in 2015 of Toni Senior's book "The Winter Isles". If you haven't read it yet–do! Amazon link here: )