Video Report:
Click play below to watch the video report.
GOPR0406-1 from Colin West on Vimeo.
Apologies for the mistakes in the Gaelic – I am still a learner!
Translation into English follows (I don't know how to do subtitles!):
Hello everyone. I am Colin West and this is the first video-report that I have done for the website gaelicinlondon.net.
It is not really a Gaelic subject that I am talking about today, but it has a Scottish flavour anyway. I am today on a street called Overhill Road in Dulwich in South London, close to where I live in London, in Herne Hill. Now, on this road in 1980 a famous musician who was born in Scotland, died. He was born in Kirriemuir but his family moved to Australia when he was young. But in 1980 he was in London for a concert. At three o'clock in the morning he  returned to this street with a friend after drinking too much alcohol. He fell asleep in the car and spent the night in the car, but sadly he never woke up again.
And who was he? He was Bon Scott.
Bon Scott
Bon Scott, singer with the famous band AC/DC. He sang and wrote songs like "It's a Long Way to the Top if you Wanna Rock 'n Roll" and "Highway to Hell". Bon was always proud of his Scottish roots. For example, the song "It's a Long Way to the Top" is the only hard rock song which I am familiar with, which features the music of the great Highland bagpipe!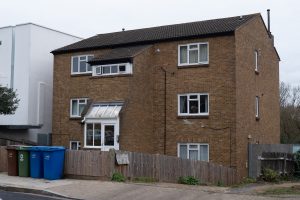 67 Overhill Road.
That is the house where it happened, No. 67 Overhill Road. But there is no memorial plaque or anything else to mark it.
So, that's it, the late Bon Scott.
That is it from me. Until next time, goodbye for now.