Domhnall Wilson dons his dancing shoes to tell us about ceilidh culture in London…
Is toil leam a' bhith a'dannsadh. Mar sin, bidh mi a' dol gu Cecil Sharp House ann an Camden. [I like to dance. So I go to Cecil Sharp House in Camden.]
Ceilidhs are held most Fridays at Cecil Sharp House in Camden. Although not the traditional house-gathering ceilidh, this is still a fun event of dancing and drinking. Cecil Sharp House has a small cafeteria serving food and soft drinks and a bar for beers, wines and spirits.
Although the majority of dancers do not have the Gàidhlig, you may occasionally hear it spoken, especially if Rachel is working the door, her being a native speaker; or Ed, who too has Gàidhlig and whose daughters are being taught at a Gaelic-medium school in Edinburgh.
There is also the occasional meeting of students from the London Gaelic class at the venue. You will also hear an exchange of pleasantries in Gàidhlig from those whose Gaelic only stretches to that!
The doors open at 7pm and the dancing starts at 8pm. Entry is £16.50. Tickets can be purchased on the door or in advance. If you are planning to buy a ticket on the night, it's best to turn up early: it's first come, first served and they sell out fast! The evening finishes at 11pm. More details, including the dates of the ceilidhs, can be found on the Ceilidh Club website: https://ceilidhclub.com/
A Burns Night Supper was recently held at one of the Ceilidh Club's alternative venues, Hammersmith Town Hall, where a crowd of partygoers were fed on haggis, neeps and tatties and cheered Ed's reading of the "Address to the Haggis" by Burns. The haggis was led in and out to the rousing sound of the pìob mhòr [great Highland bagpipe] playing "Scotland the Brave" and other tunes.
The sight of kilted men and their ladies rushing around the dance floor is a continuation of the Gaelic culture of Scotland. A culture identifiable by its dress, its music, its dance, its stories, its poetry and its whisky. But most importantly, its language. That is what brings it all together.
Cum Gàidhlig beò! [Keep Gaelic alive!]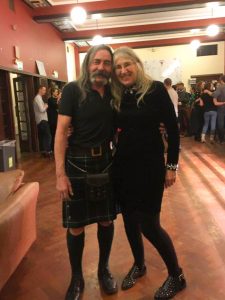 Domhnall Wilson
(Domhnall is a regular at the Ceilidh Club and a member of the London Gaelic class.)